Marking the Centenery of the sinking of TITANIC

Amateur Radio Station G8JYV is located within 1 nautical mile of the residences of some of the most senior TITANIC crew including her Captain, her Founder, and her Managing Director.

This station would like to commemorate the valiant efforts of Senior Wireless Telegraphist, Jack Phillips, who was trained at the Marconi School in Seaforth just 1 Nautical Mile from G8JYV.

The use of 'nautical miles' for land measurements on this page is intentional as to relate to the maritime theme of this page.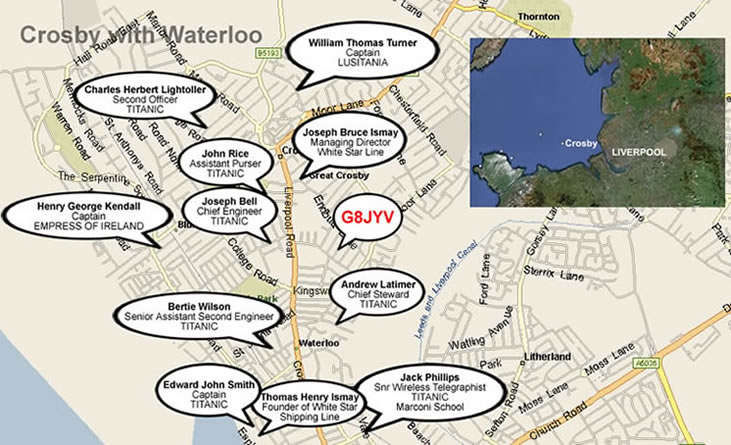 During April 2012, G8JYV was active on HF to commemorated the 100th Anniversary of the tragic loss of Titanic with her crew and passengers. The aim was to bring awareness of the close TITANIC community of Great Crosby (Merseyside) and to remember the eight staff and crew who resided here and for all but one, perished with the Titanic.
Jack Phillips, Senior Wireless Telegraphist, is commemorated for his tireless distress calls
Jack was trained at the Marconi School in Seaforth
The map above shows the senior Titanic crew members who lived in Great Crosby/Waterloo. It also shows the former residences of the Captains of the Lusitania and the Empress of Ireland - both ships of which subsequently sank during service.
Thomas Henry Ismay
Founder of the WHITE STAR SHIPPING LINE
1837-1899
Lived in Marine Terrace (0.8 Nautical Miles from G8JYV)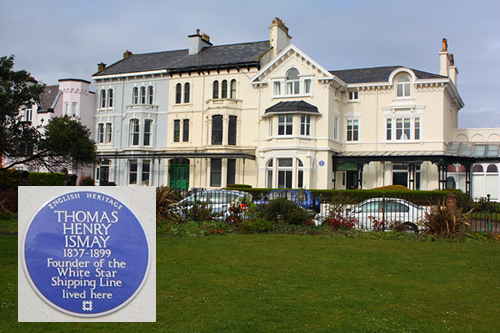 Joseph Bruce Ismay
Managing Director of the WHITE STAR LINE
Lived in Enfield House, Great Crosby 1862 - 1937 (0.3 miles from G8JYV)
Captain Edward John Smith
Captain of the TITANIC
Lived in Crosby 1898 - 1907in Marine Terrace (0.8 Nautical Miles from G8JYV)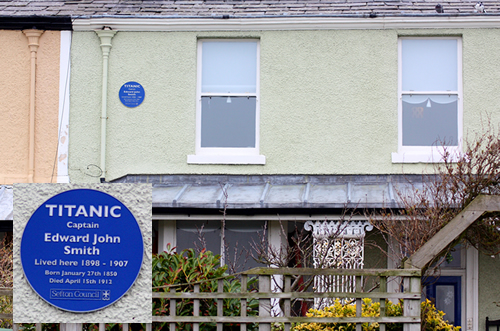 Joseph Bell (1861-1912)
Chief Engineer of the TITANIC
Lived at 1 Belvidere Road, Great Crosby (0.3 Nautical Miles from G8JYV).
Charles Herbert Lightoller (1874-1952)
Second Officer of the TITANIC
Lived in Great Crosby 1904-1908 at 8 CambridgeAvenue (0.7 Nautical Miles from G8JYV)
Bertie Wilson (1884-1912)
Senior Assistant Second Engineer of the TITANIC
Lived at 16 Norma Road, Waterloo (0.5 Nautical Miles from G8JYV)
Andrew Latimer (1857-1912)
Chief Steward of the TITANIC
Lived at 4 Glenwyllin Road, Waterloo (0.4 Nautical Miles from G8JYV)
John Reginald Rice (1886-1912)
Assistant Purser of the TITANIC
Lived at 37 Kimberley Drive, Great Crosby (0.4 Nautical Miles from G8JYV)
More details can be found at http://www.titanictown.plus.com/titanictown/titanic.htm